Equine therapy home visits 'a joy' for children in Dublin
The equine therapy unit of charity ChildVision in Drumcondra, Dublin, usually offers equine assisted occupational therapy at an outdoor arena and at its sensory trail, but the centre has been closed since March due to the coronavirus pandemic.Equine assisted therapy involves the use of horses and equine-related activities to achieve therapeutic goals such as enhancing physical, emotional, social, cognitive, behavioural and educational skills for people with disabilities.

Audrey Darby, Occupational Therapist at ChildVision said: "All of the children who attend our service have complicated needs. That's why we went that extra step to bring the horses to see them. It's an awfully long time for them, from March until September, to not see the horses.

"So I think it has been a really timely reach out to them to break that gap and recreating the magic we have in school at home for them."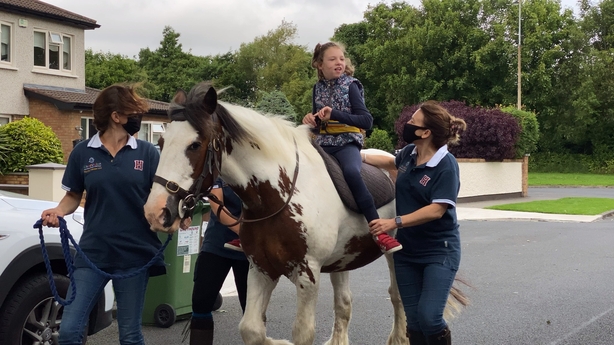 The Breslin family received an equine therapy home visit from ChildVision. Their 11-year-old daughter is a pupil at the school.
Aoibhinn Breslin was born with a rare metabolic disorder and has global development delay and visual impairment.
Her mother Caitríona Breslin says Aoibhinn "comes alive" when the horses visit.
"For other children, they've been zooming away and they've been communicating with their friends but for Aoibhinn, because her learning is so sensory, she can't use Zoom so she has had very little going on.
"Aoibhinn just loves the horses and the horses love her. Aoibhinn's world is really sensory. She learns with her senses. It's all touch and feel and everything is about her experience.
"When Aoibhinn is around the horses, she just comes alive. This home visit has been the highlight of the last three months," said Caitríona.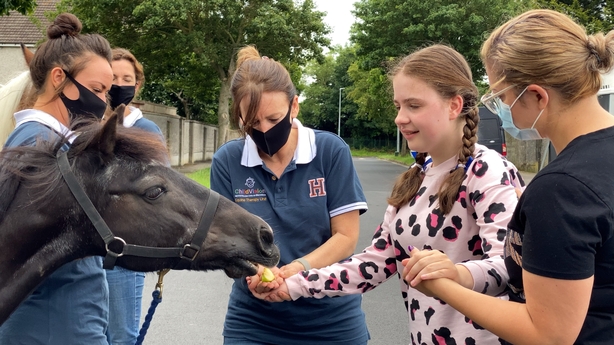 Amelija Volkavaite, 11, is also a pupil of ChildVision. She is blind and has cerebral palsy.
"Amelija has no vision at all. For her, the world is a very scary place. You saw she was a little bit anxious at the start. Today, she was very brave.
"She hadn't fed the horse before so she's done that and that's a little milestone for her," explained Audrey Darby.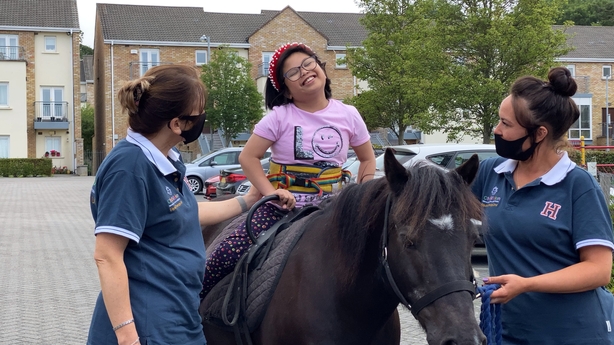 Mary Grace Cortez has autism and is visually impaired.
Her mother Pauline Longino Cortez feels the last few months have been especially hard for children with special needs as they miss their routine.
"She misses school. But today Mary Grace is so happy and she is giggling. It's been months since she has seen the horses so she looks so happy.
"For all the kids with special needs, it's really tough because they have this routine of everyday going to school. She really misses school," said Pauline.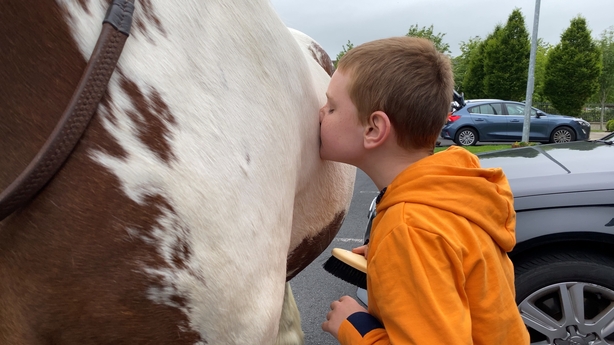 Jay Ianelli also received a visit from Buddy and Cody the equine therapy horses.
"Jay has a diagnosis of a significant visual impairment and autism as well. His world is full of boundaries and it's about exposing him to new experiences that he becomes open to.
"It's about learning those social cues, about learning new routines and getting him outside his comfort zone," explained Audrey Darby, who said the home visits have been "a joy".
"It's been really a joy to see the children, to meet them in their home environment and to also see that they are not even just reacting to us in that way in school, that they also react that way at home.
"They really enjoy the horses," she said.
---
Article Details
RTE News/ 3rd July 2020
Link: https://www.rte.ie/news/coronavirus/2020/0702/1150976-equine-therapy-blind-children/